How to plan the perfect once in a lifetime South African safari adventure.
Planning a holiday trip is usually an enjoyable challenge, with all the pre-excitement that goes with it. Planning a South African safari tour can be an even bigger one. A safari differs from the standard kind of travel experience, it is more like an expedition, a journey of discovering and exploring the African wilderness with its awesome wildlife and scenery.
Looking at the map of South Africa with its more than 300 wildlife parks and game reserves and the multitude of safari options they have to offer, can be overwhelming. To make sure you get the most out of your South African safari experience, it is absolutely important that the preparation and planning of your trip is done well. It is the foundation for a successful safari.
It all starts with doing the necessary research. Remember that "your friend" Google search is one of your best resources. Make sure to bookmark the sites you want to re-visit and make notes. But don't rely on Google alone. Visit your local travel agency, read relevant travel books and magazines, talk to friends and colleagues.
Decisions, decisions, decisions...., the following is a guide to help you find your way around all the relevant questions, issues and choices that you may come across when planning an African safari, whether that is in South Africa or in one of the other safari countries in Africa.

How to decide what exactly you want to do and see...

Do some soul searching and ask yourself a few questions such as:
What do you really want from your safari experience ?



How passionate are you about the African wildlife and nature ?

Are you a thrill seeker with a passion for adventure ?

Do you want to pursue other interests apart from the safari experience such as culture, sport, history and hobbies or just sightseeing ?


How to decide which type of safari you want to go on...
Make list of "must do" and "must see" things you really want to do and see on a South African safari, such as tracking the Big Five, wilderness hiking, bird watching, whale watching, great white shark diving and maybe also climbing Table Mountain or feeling the spray of the Victoria falls. This list will be your guide to choosing the type of safari that will best suit your interests and preferences. Let us call it your safari bucket list.
Before you look into the types of South African safaris that are available, check your safari bucket list to determine whether your safari trip should be a mobile or a permanent one. The basic difference is that with a mobile safari you move from one location to the next, such as from lodge to lodge, camp to camp, park to park or even country to country, while on a permanent base safari you will stay in any one of the mentioned locations, but then on a permanent basis.
How to decide which parks and wildlife reserves you
want to visit...
Again, let your safari bucket list be your guide, because some of the parks and wildlife reserves might not be able to offer all of the items on your list. May be you want to visit more than one park. Currently there are 21 national wildlife parks and more than 24 major private game reserves in South Africa. Each one of them offers its own unique combination of attractions and activities.
When deciding which park or game reserve you want to visit, the quality in terms of levels of luxury and comfort becomes an important aspect. It is here where the difference comes in between national wildlife parks and private game reserves and where your available budget might become a determining factor. In the end you will have to find a balance between your bucket list and available budget.
Click here to view a list of major national parks and private game reserves in South Africa that will enable you to compare in detail what each one has to offer. Click on any one of the parks on the list, you will see the information overview page of that park together with reviews and ratings from visitors as well as a panel of safari travel experts.
You will also find detailed information on:
List of available safari tours to the park



List of tour operators organizing tours to the park

Wildlife and bird life that the park has to offer

Weather and climate in the park

Best time to visit

Malaria and safety situation in the park

Gallery of photographs

How to get there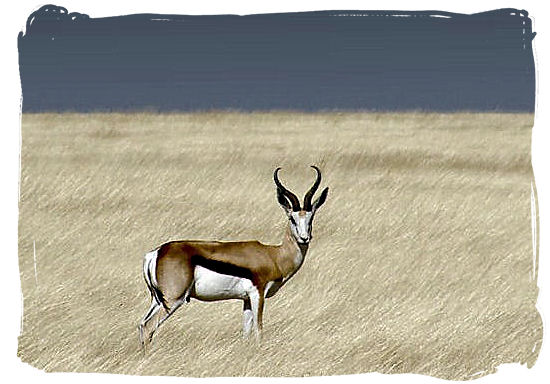 A lonely Springbok, one of South Africa's national symbols.
The habitat of this beautiful brown and white antelope-gazelle is found in the dry interior region of south and south-western Africa, stretching from the northwestern part of South Africa through the Kalahari desert into Namibia and Botswana. It is exceptionally fast, able to reach speeds of up to 100km/h (62mi/h).
copyright © Damien du Toit
How to decide on time period and budget...
The length of time that you have available for your South African safari tour is another important consideration. Is there enough time to accommodate all the bucket list things you want to do and see, and is your budget sufficient for the length of time you want to go. With your bucket list as basis, it is all a matter of finding the right balance between your list, your budget and the time period of your safari tour.
Some of the items on your bucket list may only be available during certain times in the year. So, next to deciding how long you should go, you should also think about when is the best time to go. A lot of people think that the winter season is the best time for a safari in South Africa, because the vegetation is short and dry and the water supply is limited, forcing the animals to congregate in smaller areas, making game viewing easier.
To be able to establish a budget, you need to do some research
to find out what the cost of a South African safari that includes the items on your bucket list will be like. Much will depend on the level of quality, comfort and luxury you are looking for. There are a multitude of options available. To help you find your way,
click here to view and explore
a list of more than 716 South African safari tours.
Cost-wise this will give you a wealth of information from budget to 5 star luxury. In the column on the left of the page that you will be viewing, are number of filters that you can use to find the tours that fall within the parameters of your budget, bucket list and safari type requirements. Right at the top of the page on the right there is box where you can select the currency of your choice.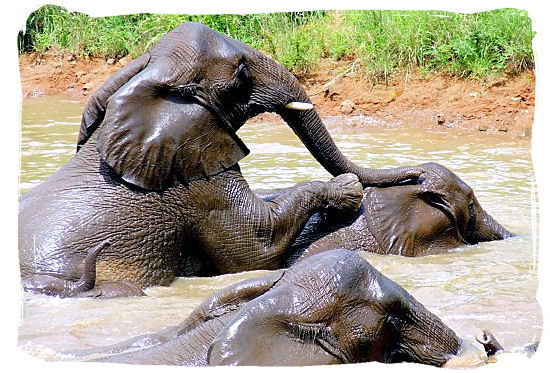 Elephants playing in the water
One of their favorite activities. Elephants love to play and have fun, they love water and they are strong swimmers. In this picture all these ingredients come together and so they have a good romp with each other, enjoying the cooling-down at the same time.
copyright © Werner Bayer
How to decide on which tour operator and guide to use...
By this time you will have chosen the type of South African safari you would like to go on and you also have a good idea of what you want to do and see. You also know where you want to go, how long you want to go and the amount of money you want to spend. In actual fact you now have the outline of an itinerary that covers most of your interests and preferences.
Now it is time to look for the right safari tour operator and make your South African safari adventure come true, maybe even to the extent of a fully customized tour. In South Africa alone there are a multitude of tour operators to choose from. But you can now narrow down the choices to those that fit your itinerary outline and budget. You know what you want and what you are looking for, which makes it a lot easier.
To help you find the tour operator that will fit your needs and expectations, click here to view and explore a list of more than 921 South African safari tour operators. In the left hand column of the page that you will be viewing you will find a range of selection tool that will help you to narrow down the list by selecting the price range, comfort level, tour operator specialization.
By clicking on any one of the listed tour operators, you will find detailed information of that particular operator such as company profile, company location and contact details, list of safaris and tours on offer, destinations they cover and user reviews. Take a close look at what they offer, specifically with regard to what is included in the tour and what is not, so that you do not run into hidden additional costs such as internal flights, transfers, meals, excursions and activities etc.
A Giraffe will always look down at you Giraffes are the tallest animals on Earth, reaching heights of up to 6 m (20 feet). Its neck alone can be up to 2 meters (6ft 7in) in length. Both males and females possess 2 hair-covered horns called Ossi cones. Males use their long neck with the head and horns as a battering ram in fights with other males.

How to decide on what to take along and pack...
There are two determining factors when it comes to deciding on the list of clothes and equipment you want to take along on a South African safari. First of all the climate in South Africa's safari regions is generally warm to hot during the day and low-warm to occasionally somewhat cool at night. In the winter the nights can become chilly.
So shorts and t-shirts are perfect for wearing during the day and most often also at night. However, in malaria infected regions you might want to wear a long-sleeved shirt and long trousers in the evening as protection against mosquitoes. Although less comfortable in the heat of the day, they are also useful as protection against sunburn.
The other important factor is that the amount of luggage you can carry around on a safari is limited, so you should pack wisely and not over-pack. Driving on dirt roads and cross country on a safari will get you dirty. So be practical and do not worry too much about your safari clothing.
Another thing that matters are the colors of your safari clothing. Keep them subdued and earthy such as brown, khaki, beige or olive. It will help you blend in with the bush and the animals. What is also important is the footwear, especially if you plan to go on game viewing hikes. Make shore that you pack a pair of comfortable, practical and sturdy hiking shoes.
As far as equipment is concerned, the essentials that you will really need are binoculars, camera, sunglasses and headlamp. Although most South African safari tour operators as well as the lodges and camps where you will be staying will have a first-aid kit available, bringing your own small supply of essentials such as mentioned here below, will come in handy.
Malarial prophylactics

Sunscreen (Factor 30 or above)

Antihistamine (for bug bites/stings and allergic reactions)

Aspirin/Motrin/Tylenol for pain/headaches

Lip balm

Mosquito Repellant

3x 5L size zip-lock plastic bags (to keep things like your camera dry or free of dust and your dirty clothes separate)
Antiseptic gel (handy for washing your hands when there's no water around)

Anti-diarrheal medication

Band aids with antiseptic cream

Spare glasses, if you wear them

Your prescribed medicines (Bring a doctor's prescription in case you need to buy some locally)

Portrait of a Zebra Zebras are closely related to horses and donkeys. They are best known for their black and white stripe patterns. These patterns are different and unique with each individual. Zebras are social animals, living in small harems usually consisting of one stallion and up to 6 mares and their young. A number of these harems together form a herd.

To help you on your way in deciding what to pack, the following are two lists of suggested clothes, the one for women and the other one for men, that should be enough for a 7 to 10 days safari trip.
Clothes for women
4x t-shirts (you can wash and dry overnight)




2x long sleeve shirts



1x sweatshirt/fleece

2x pair of comfortable shorts

2x pairs of cotton trousers/pants

1x cotton wrap (great to wear during the afternoon siesta, buy locally if you can)

3x pairs of socks

4x pairs cotton underwear (you can wash and dry overnight)

3x sports bras (handy for bumpy roads and game hikes)

1x Very thin waterproof raincoat if traveling during the wet season

1x Flannel pajama pants for the chilly nights

1x Hat with chin strap (to avoid it blowing off your head and into the bush)

1x Swimsuit

1x pair lightweight, durable, waterproof hiking shoes

1x pair flip flops or sandals for around camp, (or to wear in the shower)

Personal toiletries in small travel size, shampoo, soap, toothpaste, toothbrush, deodorant, tampons/pads/panty liners etc.
Clothes for Men
4x t-shirts (you can wash and dry overnight)



2x long sleeve shirts

1x sweatshirt/fleece

2x pair of comfortable shorts

2x pairs of cotton trousers/pants

3x pairs of socks

4x Pairs Underwear (you can wash and dry overnight

1x Flannel pajama pants for the chilly nights

1x Very thin waterproof raincoat if traveling during the wet season

1x Hat with chin strap (to avoid it blowing off your head and into the bush)

1x Swimsuit

1x pair lightweight, durable, waterproof hiking shoes

1x pair flip flops or sandals for around camp, (or to wear in the shower)

Personal toiletries in small travel size, shampoo, soap, toothpaste, toothbrush, deodorant etc.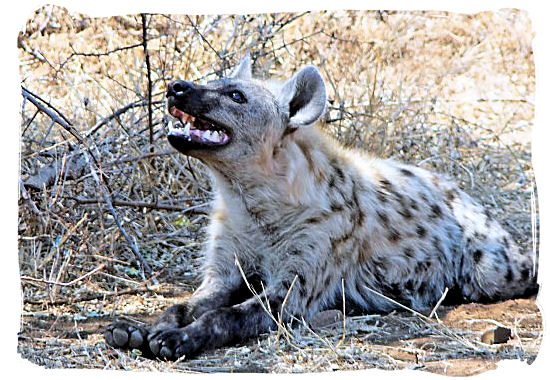 The Spotted Hyena
It has one of the most powerful pair of jaws among Carnivores. Well known for their "laughter" sound, Spotted Hyenas are living in clans with the den as their home and center of activity. Apart from being scavengers, they are also skilled hunters. Their social order is matriarchal with the females dominating the males.
copyright © mediaclubsouthafrica.com
Travel requirements...
Travel requirements to enter South Africa are a valid passport that will be valid for a minimum of at least 6 months beyond the length of your intended stay and a valid visa if required. The passport should have at least two facing blank pages in it.
You also have to be able to show that you have sufficient funds and that you are in the possession of a return or onward airplane ticket. A yellow fever certificate is required if you came from, or pass through one of the yellow fever belt countries in Africa or South America.
If you are a citizen
of one of the countries on this list
, you can obtain a 90 days tourist visa at the port of entry into the country. In all other cases you have to obtain a visa in advance from the South African embassy in the country where you live.
Children need to have their own valid passport as well as an unabridged birth certificate. This is a new regulation to improve their safety, protecting them against child trafficking, abduction and kidnapping.
Make sure that your medical and travel insurance is in order. Check with your local insurance company and double check with your travel agent or tour operator.
Your insurance should include the following:
Cost of cancellation or curtailment of your trip



Emergency and / or evacuation expenses

All medical expenses

Repatriation expenses

Damage/theft/loss of personal luggage, money and goods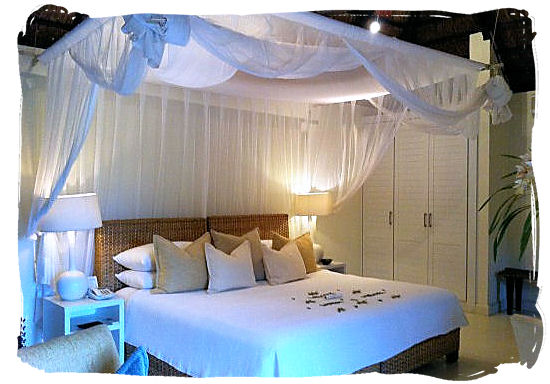 Luxury accommodation with mosquito net protection
By keeping mosquitos, flies and other insects away from you, it protects you against a variety of diseases they carry, such as malaria, dengue fever, yellow fever and various forms of encephalitis.

Malaria precautions.
Malaria is present only in a relatively small part of South Africa,  which happens to be the part that is home to some of its most beautiful wildlife parks and game reserves. Action to combat and reduce the presence of malaria takes place on a continuous basis and provided you take the right precautions as mentioned here below, the chances of contracting malaria in South Africa are minimal.
Consult your local doctor in advance and ask him for a malaria prophylactic prescription. Carry out its instructions diligently. In addition, when you are on safari in a region where malaria is known to occur, be prepared to take the following precautions:
Apply insect repellant onto exposed skin, it is very effective.

Wear long-sleeved clothing and long pants if you're outdoors at night.

Avoid swimming in stagnant water.

Use a mosquito net if your tent or room isn't screened or air-conditioned or burn a mosquito coil before going to bed.

Take the malaria tablets prescribed by your doctor and keep taking them until the course is complete.


Video Gallery...
The following are a few short videos giving you a glimpse of the African wildlife. They are like windows, each one with a different view of an extraordinary and unique wildlife scene.
This first video will take you on a short safari game drive somewhere in the KwaZulu-Natal province of South Africa. It gives you some idea of the diversity of wildlife and scenery that you may come across on a South African safari.
This next video focuses in on one of a multitude of exciting animal activities. In this case it is some rather rare footage of a fight between two Black Rhino bulls contesting a piece of territory. The one Rhino is particularly aggressive, inflicting a gaping wound on his opponent. With testosterone pumping he then charges the game ranger's vehicle. Black Rhinos are known for their aggressiveness, more so then their White Rhino counterparts.
In this video you join a walking safari in the Kruger National Park in South Africa. Following a game trail along the edge of a river bank on an afternoon walk, the participants encounter an Elephant bull. The Elephant starts advancing to them. The game rangers call out the procedure and issue their instructions, to be quiet and stand dead still. Standing 4 - 5 meters in front of the group with their rifles at the ready they try and shout down the Elephant. However the big bull continues to advance, makes a mock charge and fortunately decides to rather move off.